Rope Access
We specialize in safe and effective high-rise media installations

Sign Installation
We install a wide range of media including banners, fascia signs, and vinyl graphics.

Building Repairs
We have the expertise to fix facades and perform other minor high-rise repairs.
Rope Access & Sign Installation
Rope access is a more recent technique developed in Europe in 1990 and is quickly becoming the more known across Canada. Offering a safer way to work from heights, there are now over 15 million trained ropes access technicians around the world. Minimizing fatalities and risk, we believe that rope access technicians are the future when it comes to safety in the installation industry. With thousands of hours of experience and a knowledge of self-rescue and rescue from heights, rope access technicians like those at HMI are trained to deliver a premier level of service.
What specifically sets Hi-Visibility Media Installation technicians above other rope access installation providers? We combine an experience of working at heights with an expertise in the advertising and media industry. Each of our technicians are expertly-trained and possess certifications in First Aid, SPRAT, IRATA, and ASA Electrical Certification Program.
Rope access offers quick, safe and cost-effective installations. We understand how important outdoor advertising is in Canada and with the help of our elite team of technicians we can assist you in getting your message out to the public with swift turnaround times and smooth and reliable service.
We install channel letters, sign cabinets, flexface, and cut lettering. Using a specialized hoisting technique, we are able to wow our clients with an efficient installation using proper rigging techniques, doing away with the risky and expensive use of swing stages and cranes.
If you don't believe us, search on google "swing stage accidents" and search "rope access accidents". You will see for yourself that there is numerous videos and accounts of people who have been in swing stage accidents compared to rope access accidents. 
Alberta OHS Part 41 provides regulations that we follow with precision.
Experience Working At Heights
With knowledge of advanced rigging techniques, maneuvers, local legislations and a diligent research process, we make it a priority to ensure that our installations are safe, compliant and effective no matter their location.
Experience In The Sign Industry
With years of experience installing and maintaining vinyl applications and store-front signage, we offer an installation approach that prioritizes a commitment to quality.  Currently we are working toward the 3M Preferred Installer certification.
Combining Our Knowledge & Expertise
Bringing together our two areas of expertise, Hi-Visibility Media Installation strives to provide the highest quality service to our clients. With an extensive understanding of the complexities involved in electrical, extrusions and vinyl application as well as ascending, descending and rescuing at heights, our technicians are trained to provide a highly-capable and blended approach to our installations.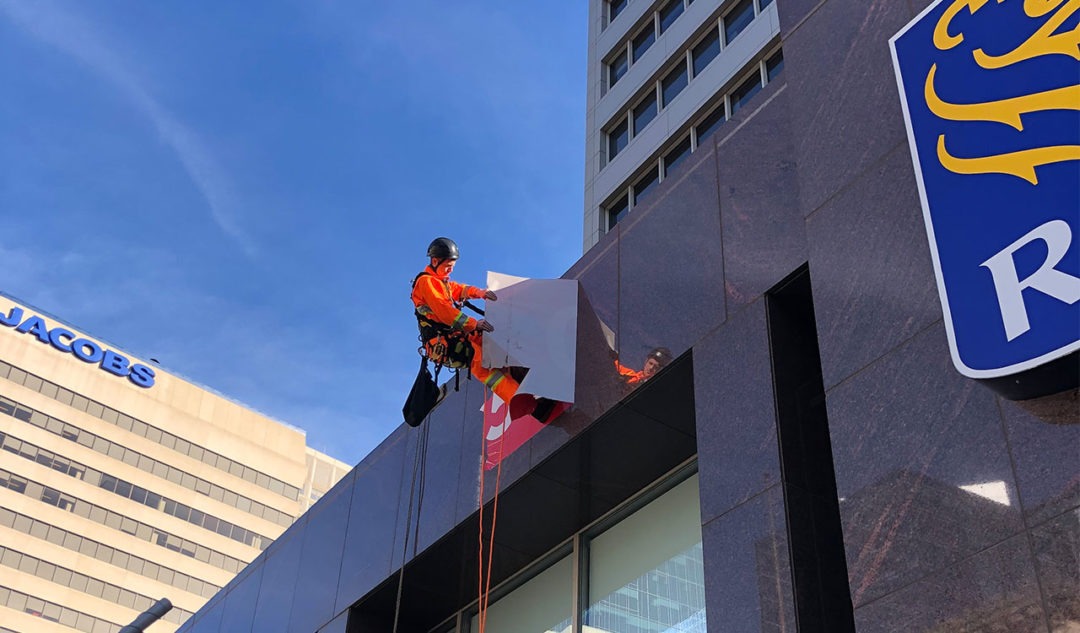 "There's an old saying that if you think safety is expensive, try an accident. Accidents cost a lot of money. And, not only in damage to plant and in claims for injury, but also in the loss of the company's reputation."